←
→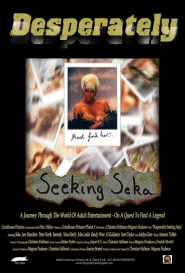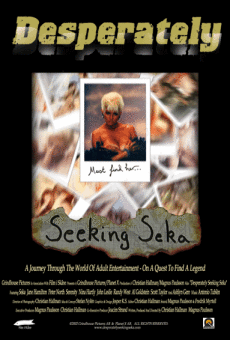 Desperately Seeking Seka
There was a time when…
…adult entertainment meant going to the movies. When X-rated features where shot on 35mm, had real stories and were directed by people who considered themselves film directors and not pornographers. It was the 1970s, before the home video boom, and the platinum blonde goddess of the adult silver screen was a charismatic, enthusiastic woman called Seka, a starlet worshipped by millions throughout the world.
One of Seka's fans is Swedish journalist Stefan Nylén,, who decided to locate her for an interview. Who is Seka? What is her story? What was the adult industry like during its golden age? What became of its stars and producers? Join Stefan on his quest for Seka!
Desperately Seeking Seka is an adventurous odyssey through X-rated America, featuring open-hearted interviews with some of the most well known people in the adult entertainment of yesteryear and toady- and some truly catchy music.
Buy the DVD here.
Production Info:
Prod. Year: 2002  l  Run time: 93 mins / 52 mins  l  1:1,66  l  Language: English
Directed & Produced by
Christian Hallman & Magnus Paulsson
Featuring
Seka
Jane Hamilton
Peter North
John Leslie
Serenity
Nina Hartley
Bob Burge
Randy West
Al Goldstein
Scott Taylor
Ashlyn Gere
Director of Photography
Christian Hallman
Co-Producer
Joakim Strand
Music by
Antonio Tublén
Sound Design & Mix
Joakim Tillheden
Edited by
Christian Hallman
Idea & Concept
Stefan Nylén
Written by
Christian Hallman
Graphic Design
Jesper K.S.
Distributor
Njuta Films (Scandinavia)
Disinformation (World Wide - non exclusive)
Co-Production Company
Film i Skåne
Production Companies
Grindhouse Pictures
Planet X